WELCOME TO A NEW CHALLENGE!
As always, the theme this month is
Anything Mixed Media Goes
Closing date for entries: 20th August, Noon. Max 2 entries per person, no backlinks.
You do not need to use Polkadoodles products to enter our challenges, use any products you wish...
RANDOM WINNER PRIZE: $10 gift voucher from Polkadoodles for our lucky winner, (chosen by random.org) - this voucher can be spent across the whole store, so you can use it on dies, stamps, papers, whatever you wish...
Winners of our last challenge are at the bottom of this post...
------------------------------
Our sponsor for 2019 is Polkadoodles and you can check out all the wonderful selection of Polkadoodles goodies in the shop. Make sure you check out the POLKADOODLES store below, they have lots of fab new products in store perfect for all you mixed media lovers out there, make sure you check them all out! Some of their mixed media products are amazing!
So let's find out what the Design Team have made this month!...

Corry Hey there crafters. This time I have made a card with the beautiful flower stamp pretty perfect...For the background I used distress inks and different stamps....At first I stamped the flower on the card. I blended the leaves with chlorine bleach. After that, I stamped the flower again - I have colored the flowers and butterflies and then I cut it out and glued them on the card. Finally, I placed some glitter on the flower and butterflies...
Terry: Hi there, This time I made a couple of Art Journal Pages, just love to play around with stamps on the background, started with Distress inks, after that I played with all kinds of smaller stamps, from the Honey Daisy, Stampsoup Lemonade Fizz, Texture Gallore, Lavender Tea, Making Faces, Papillon. Bella Fleur, Regal Peacock and Funky Alphabet Stampset, stamped the girls on both pages and colored them with pencils and with inks. With a stencil I placed the swirls and used Modelling Paste for it and mixed orange acrylic paint in with it. And last but not least I stamped some sentiments on the art journal pages.
Irmelin: Hi everyone. Today I'm sharing a canvas I've made with one of the many digital stamps that are in the store. The one I chose was from the Stick & Bones collection. I colored this one with Copic Sketch. The colored image I glued to one canvas and started to add elements. I added fiberglass tape, wood bits from the canvas, string, and branches. I also made a mixture of art stones and glue that I adhered to the canvas. I colored the canvas with ink sprays and decorated with flowers. Finally, I added a title. Hope you will enjoy my project this month!
Jane – I love my art journals at the moment and played with my A6 version today. I used glitter pens and watercolours to create a crazy coloured background and added lots of lovely Stamp Soup stamps for interest.
The focal point is one of the stunning Oddella digis coloured with pencils.
Here's the products the team used...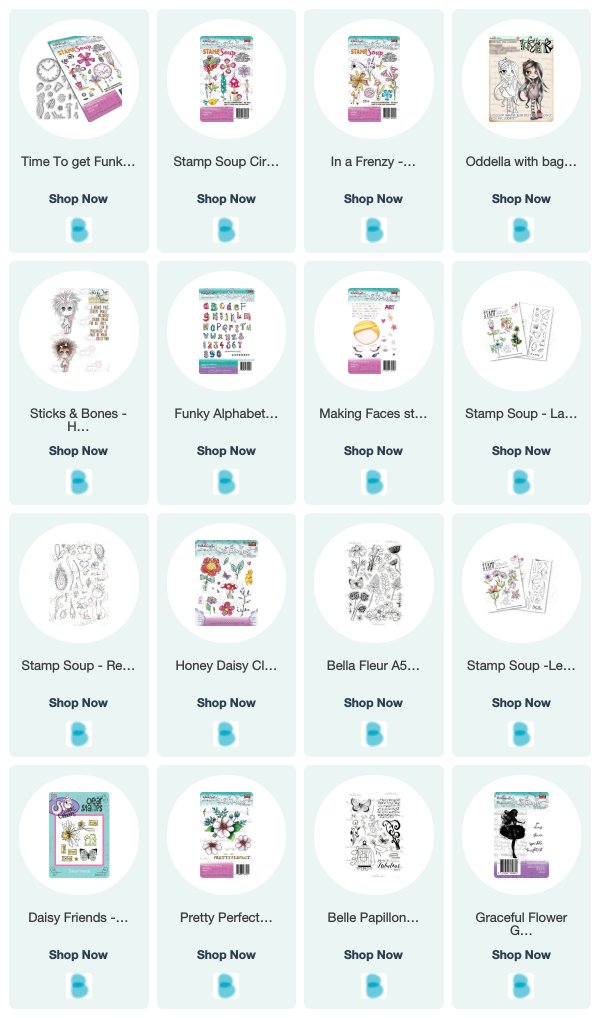 Gorgeous projects as always!
WINNERS FROM CHALLENGE 7
Thankyou everyone who entered this challenge - we really loved looking round your blogs, you all left us some awesome work to look at!

Our Random winner is:
Well done!
PRIZE: $10 gift voucher to the Polkadoodles Store.
To claim your prize please email Polkadoodles, quoting 'Love 2 Create winner' in the subject bar. Please include this claim code L2Cwk8001 in your email and allow 14 working days for a reply please.



TOP DT FAVOURITES


Every month you blow us away with some outstanding entries! These are some that really made us oooohh and aaaahhh - thankyou all for your amazing creativity, you're just awesome!

SO here are a few favourites you all need to take a look at if you didnt already!
#24 Kropki i Kreski
A big thank you to everyone who entered last month's challenge and winners, plus Top 3, will be announced on the next challenge.

Don't Forget to play along with our other teams too!