Good morning and welcome to our new challenge!! For the next two weeks our theme is
and our DT have really outdone themselves creating some stunning projects to inspire you so I hope you're going to play along!
Our lucky winner will receive some gorgeous stash from
one of our challenge entrants will receive a mask and a PanPastel (colours may vary) too so don't miss out on your chance to win
So let's check out what our DT have been busy creating this week, you'll notice that we're all having loads of fun with the fabulous new PanPastel mediums and of course the Pearl PanPastels too. You can find them all
here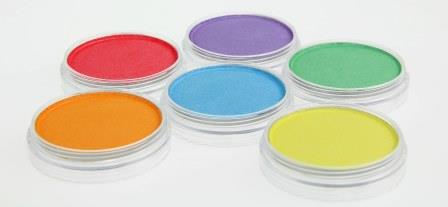 Yvonne
- wow did I enjoy making this one with all the fabulous products from Premium Craft Brand. Details of how I made this on my blog.

Doreen
I have made my background by shading Diarylide Yellow, Permanent Red Ultramarine Blue and Burnt Sienna Shade,I then sealed this with some cheap hairspray,next I stamped my image using black Archival ink and coloured in with PanPastels,I then stamped the sentiment and tied on some twine and a button.xxx

Tracy
- Inspiration for my project came from the trees changing colour and a time to be thankful for what we have. A chunk of wood, book pages, Maimeri Gesso/ Matt Gel, a stamp and a few Pan Pastels was all that was needed to create my wood art.
Really quick and such a joy to mix the Pan Pastels together. Please hop on by my blog if you have a mo. x

Anjie
- On the image her hair and skin are coloured with Graph'It Makers and the dress with Pan Pastels. The colour I used for the dress is Orange Extra Dark. To create the background I have used the leaves stencil and mixed some iridescent paste with the orange Pan Pastel and put through the stencil. I then used the pearlescent orange Pan Pastel over the top of all. Then I used the pearlescent PP red around the edges and finally the magenta extra dark PP right at the edges. I then stamped the butterfly and sentiment from the Postcard stamp set and used the same colour PP's to colour them. I have finished the card off with some satin ribbon from my stash. More details on my blog.
Here are the products I used.
Claire C
I've had loads of messy fun altering a Maltesers box and making loads of flowers for my project, you can find all the details on
my blog
Here are the products that I've used

Terry:
Oh yesss had lots of fun and yep fingers looked like Autumn too, altered a few hearts since I love hearts and made them into Autumn wallhangers, used Gesso, Light Modelling Paste with the DD stencil Spiderwebs, lots of Pearlescent Pearls with White Coarse, Some metallic Pans and the Dutch Doobadoo Leaves. To finish my projects I have placed a few sentiments.
These are the products I have worked with:
We'll be back next week with more inspiration and we'll be announcing the winner and Top 3 from our last challenge too so don't forget to pop back!
We don't really do loads of rules here but we do have a couple so please take note:
2. Only 2 entries to make it fair for everyone
3. We'd love you to TRY and play along with the challenge if you can although it's not a hard and fast rule but extra brownie points are awarded to those who do.
4. The main prize can only be posted to a UK address - if the prize is not claimed within 14 days it will be offered to someone on the Top 3 from the same week.
5. You MUST be a follower of this blog to enter
The challenge will run until Saturday 18th October and the winner and top 3 will be announced on Sunday 26h October
Mister Linky's Magical Widgets -- Thumb-Linky widget will appear right here!
This preview will disappear when the widget is displayed on your site.
If this widget does not appear,
click here
to display it.